English Premier League squad values – where is the value?
Updated: 3rd December 2023

Premier League squad values – where is the value?
August 10th, 2018  Press Release
The Premier League transfer window has officially closed, but who has the most valuable squad? and does that tell us anything going into the new season? OddsMonkey investigates.
We have looked at every squad, at the values and then looked at the Bookmakers odds, and see if we can see who might be offering the best value.
So, after another record breaking transfer window, we have seen English clubs again spend millions once again on some of the world's finest talent.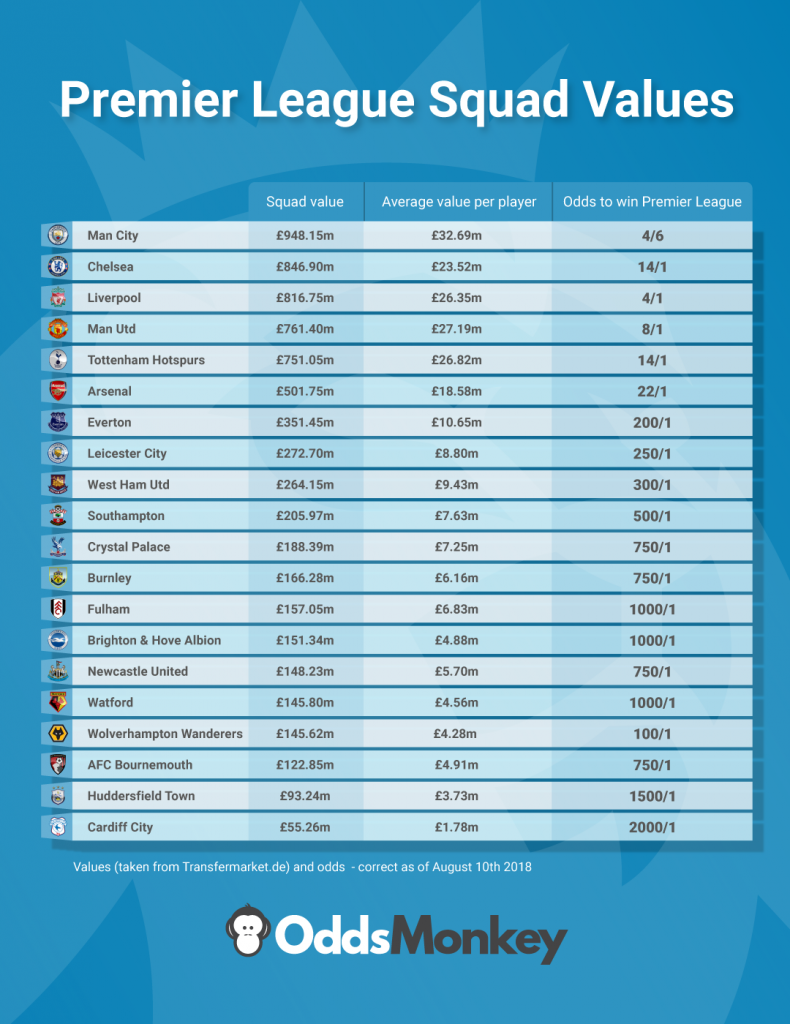 And it probably isn't a huge shock that reigning champions Manchester City come out on top with a squad value almost hitting the £1billion mark at £947million.
Indeed, the Premier League's top-six are that for a reason and they fill those spots  – although Manchester United find themselves in fourth behind City. Chelsea (£846m) and Liverpool (£816m).
Then come North London duo Tottenham – who became the first club since the current transfer window system was introduced not to sign a player in the summer – and Arsenal.
Of the rest it is little surprise to see newly promoted Cardiff propping up the table with the lowest value squad – only £900million less than Manchester City.
We also looked at the contenders, the top-six and analysed them along with the odds, to see who was offering the best value for the title – given their squad values.
And coming out on top is Unai Emery's Arsenal – still possessing a squad worth over half a billion pound, but still with odds of 22/1, they present the best value in the market, ahead of rivals Tottenham and then Maurizio Sarri's Chelsea.
Manchester United are fourth when it comes to value. but it is unsurprising that favourites Liverpool and Manchester City are offering little in terms of the value  – compared to their rivals, especially as City are odds-on at 4/6.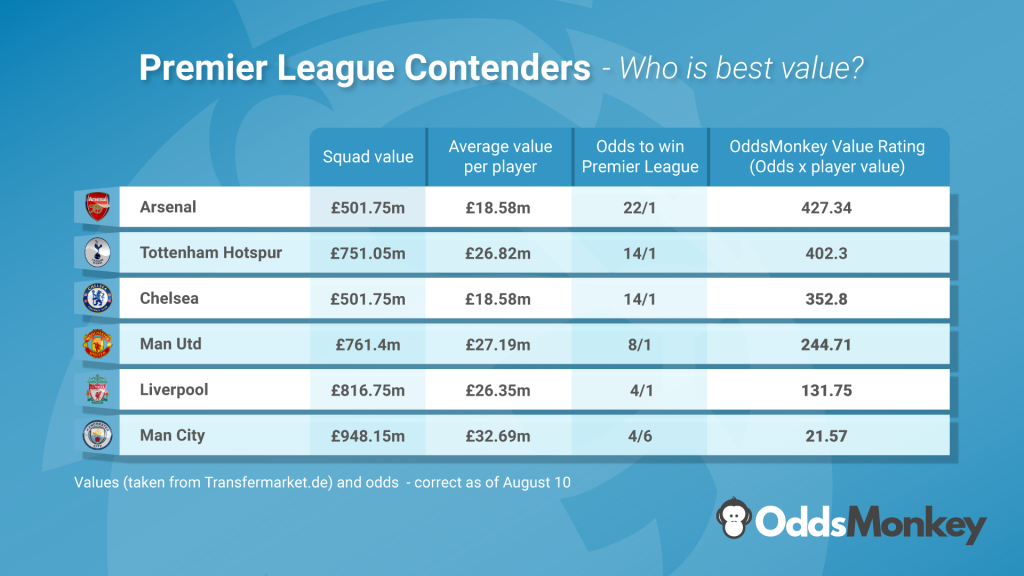 OddsMonkey spokesman Peter Watton revealed: "We thought it would be hugely interesting to compile this research and look at the values and we are not disappointed.
"We all know just how good Manchester City are, but to see their squad value on paper – worth nearly £1billion, that is just staggering.
"The top-six are what they are in, but even in there we say big gaps from Arsenal and Chelsea – almost half the price of City.
"Then we go down to the bottom end, and we see Cardiff City at the bottom – which again doesn't surprise many but highlights that we very much have leagues within leagues in the top-flight."
https://www.oddsmonkey.com/blog/media-journalism/premier-league-squad-values-where-is-the-value/
OddsMonkey are the leading Odds Experts, and specialise in analysing odds and betting markets.
Spokesman Pete Watton is available for further comment or one-on-one interviews on this subject or anything connected with a betting market – for more information please contact press@oddsmonkey.com or call 01916404262
Claim Football Free Bets
[fcrp_feat_sc sc_id="9955″]
Relevant news